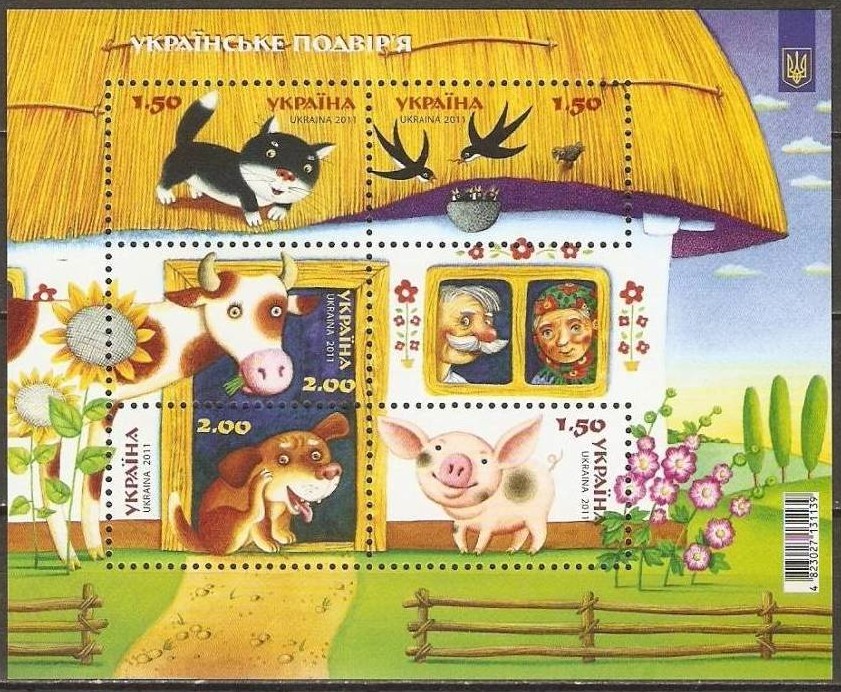 On 25.06.2011 decorative postage block
No. 91 "Ukrainian homestead" is issued.
Block of five stamps: No. 1109 (cat), No. 1110 (swallows),
No. 1111 (cow),
No. 1112 (dog), No. 1113 (pig).
Size of the block – 116x94 mm.
Size of the stamps: 36,54x22,62 mm.
Face value of the stamps No.1109, No.1110, No.1113 – 1,50 UAH.
Face value of the stamps No. 1111, No. 1112 – 2,00 UAH.
Printing run of the block – 132 000.
Protection of the block: microprint "?.?????".
Protection of each stamp: parts of bodies of animals and
birds luminesce under UV-light.
Harrow perforation – 11 1/2.
Block selvages are artistically decorated.
Designer of the block – Kost Lavro.
Designer of the postmark – Yevhenii Borodai.
Block is multicolored; printing process – offset.
Block is printed on SE "Integrated Printing Plant "Ukraina"
for production of securities".
Barcode 4823027131139.